Welcome to SurfGuitar101!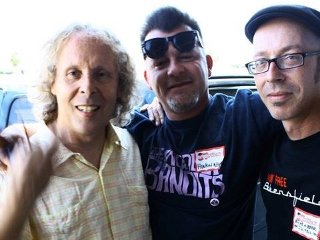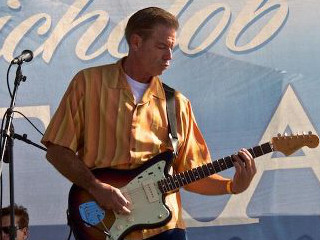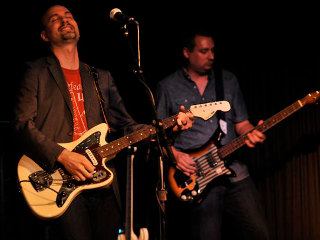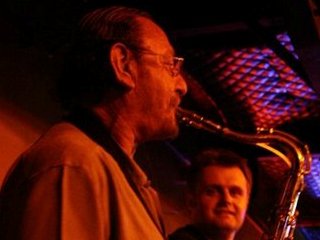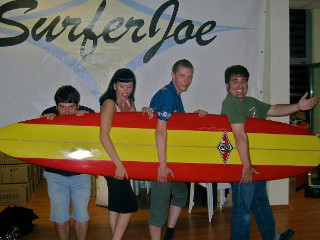 Welcome to the all new SurfGuitar101.com! We've rewritten the site software and have a new design! We hope you like the new site and features; please leave feedback in our forums.
Since February 26, 2006, SurfGuitar101.com has been the premier home on the web for friends and fans of the world-wide phenomenon known as surf music! Created in Southern California in the early 1960's, surf music is very much alive today and has spread around the globe. Join us in our forums to discuss surf music, past and present. Meet new friends and discover new bands. Want to play surf music? We have lots of forums devoted to playing, performing, and writing surf music. We have lots of discussions on gear: guitars, amps, and drums. Check out our podcasts and hear some really great tunes! Finally, we feature news and articles on the surf scene, and you'll always know where you can catch some live surf music!
Latest Forum Posts
Join us in our forums for some lively discussions. Here are the forum topics with new posts.
Current News Stories

DATES, VENUES & BANDS
"246-PELICAN MEET & GREET"
Thursday May 19
@ MULTIFORO 246
-King Pelican
-Los Granujas
-Dr. Tritón
-Los Rifles
"IZCALLI-FORNIA SURF STOMP!"
Friday May 20th
@ EMERGENTE
-King Pelican
-Los Astros
-Los Grainders
-Terror Waves
-The Sonoras
"TARDE DE SURF-MANIA!"
Saturday May 21th
@ FORO HILVANA
-King Pelican
-The Cavernarios
-Arrowheads
---
Category: Show Announcements

0 comments


The Phantom Operators in conjunction with Mortis Media, producers of the "Mortis" podcast have released a soundtrack album of all the songs used in the podcast. The "Mortis" podcast is unique in the fact that all the songs are exclusively produced for the podcast and cannot be heard elsewhere or on any other of the band's releases. The twelve song album made its debut this past weekend at the Marble City Comic-Con in The band's hometown of Knoxville, Tennessee and is now available digitally at the Mortis Media bandcamp page, MortisMedia.bandcamp.com. The band expects to put out more releases through Mortis Media in the near future so stay tuned!
---
Category: Bands

0 comments

Submitted by
driptone
on April 22, 2016.

We are excited to announce our demo release! Music will be posted soon!
---
Submitted by
Jetpack
on April 21, 2016.

After seeing the HBSM pier show flyer posted today we thought we may as well post the flyer we have up on our site with other shows in May that we are also playing. The car museum convention/show listed is open to the public so you have the option of seeing the girls and guys of Jetpack for four hours(!) if you feel our set at the pier may not be enough for you. (The Cinema Bar is a more reasonable 2 1/2.)
Introduce yourselves in person if you attend any of these!
---
Category: Show Announcements

0 comments

Submitted by
surfaca
on April 16, 2016.

Hello everyone, I play guitar in Nahuelaizers, we're from Bariloche, it's in the south of Argentina. Here's our debut album produced 100% by ourselves, it's been a pain to do it but we're very happy to release it, finally! Hope you like it, this is Profundidad Desconocida.
https://nahuelaizers.bandcamp.com/album/profundidad-desconocida
---
Category: Bands

6 comments


Here's the new music video for The Swamp Coolers' original song, 101 On The 101!
The video was produced by Richard Thrubridge at TruStudios in Great Britain.

---
Submitted by
Tikidog
on April 13, 2016.

The new album of THE RAZORBLADES, Germany's wildest surf band
NEW SONGS FOR THE WEIRD PEOPLE is out now!
17 songs, 12'' Vinyl or CD and digital
Order here:
http://cdbaby.com/cd/therazorblades2
http://www.therazorblades.de/shop/
https://www.flight13.com/details/razorblades-new-songs-for-the-weird-people-118860
or download on iTunes or stream on Spotify!
Tour is in full flight, check all the dates here:
http://www.therazorblades.de/tourdates/
---

If you are looking for amazing quality cables for live performance and recording you need to look no further. These cables are fantastic. Copper grading, gold plated, with a variety of sizes and angles for all your cable needs. I know they're just cables, but I can't say enough good things about them. I discovered them on Scott Grove's Youtube channel and I was hooked. I Redid my entire rig in nothing but cables from South Creek Audio .
Check out his review: https://www.youtube.com/watch?v=9lt5vzaA_Kg
South Creek's website: https://www.southcreekaudio.com/
They do nothing but cables and are not paying me a dime. I can't see myself using anything besides them for the rest of my guitar life.

---
Category: Gear

4 comments


Here's our new EP SURF'N"GOAT artwork. The 7" will be released in Europe by Drunkabilly Records from Belgium.
The street date is June/14 and we'll be touring through the old continent from June/14th to July/04th. It's 4 new intense and loud SURFTHRASHMAYHEM songs!!!
The artwork was done by the Canadian artist Felix la Flemme, and all the layout was done by the band. See y'all soon on the road!!!
SURF'N'GOAT!!!
---
Category: Bands

2 comments


The Surfaris have released a new album featuring fresh arrangements of mostly surf classics from their set. Included is a tribute to Eddie Bertrand "Mr.Rebel" as well as re-recordings of Surfaris B-sides like Similau and a token vocal Surfin' Bird.
---
Category: Bands

5 comments

---
For more news stories, check out our news archive.