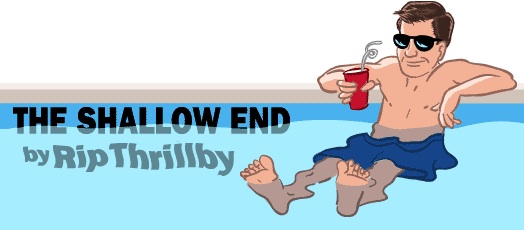 Most of you know, The Penetrators like to take their sweet time on projects worthy of mass distribution and this is a prime example.
But, after two years of research, we finally found most of Rip Thrillby's posts regarding "The Shallow End". As a build up to May 11th (5 years since his "reassignment"), I'll be posting 2 episode's a day.
As Sheriff Bart says,"I like to keep my audience riveted."
So, go ahead and hit the latrine, we don't want anyone soiling themselves due to excessive laughter, grab your libation of choice and sit back and enjoy the sapience of Rip Thrillby.
Respectively submitted,
Trace Luger 017
"The Shallow End" #1
by Rip Thrillby
2/19/99
Well, you asked for it. "The Shallow End" was a weekly column I
wrote for a while when I was working at Cox Interactive Media, an
existence I hated. I think it was a coping mechanism writing them -- misery can inspire creativity, and I wrote them in character as my band alter-ego, Rip Thrillby.
It's odd; since being self-employed and enjoying most days, my
work and the freedom that comes with the freelance life, the
commentary doesn't flow from the noodle like it did when I was in
cubicle-land.
Oh well. Some of the stuff is a little off-color(I've worked on
cleaning up my language and some of my thoughts since then);
hope you're not offended too badly, and that you'll still talk to me
after reading them! I read them now, and some of them seem a little
too critical, but as I said, I was not enjoying my daily routine too
much then. Other stuff in them I'm still pleased with. As a teacher, I
hope you enjoy the one "written by" a seven-year old boy. It
amazed me how many people really believed it was actually a kid writing
it.
It started with this, written in the winter of 1999:
---
The Cowabunga listserv has been pretty boring lately. I've been
pretty bored this afternoon. Here are the fruits of my boredom.
Apologies in advance to the offended. Feel free to respond.
I can't remember who said it, but "You can tell how boring someone
is by how far back in their lives they have to reach for glory" is as
true as truth gets.
I wish more people would actually learn to play their instruments
before starting a band. And how to tune their guitars.
I want to find a chick who's as obsessive about dressing like a
gogo spy babe -- boots, form-fitting bodysuit, false eyelashes, flip
hairdo (see Honor Blackman)-- as all these rockabilly chicks are
as obssesive about looking like Betty Page. I really don't think this
is too much to ask.
If I hear of another band with "Daddy" or "Daddies" in their name,
I'm going to puke.
Why are true straight-leg slacks so hard to find?
You may not be able to judge a book by its cover, but I've found
you can tell a lot about whether a band is going to suck by looking at
its equipment setup. Any of the following are warning signs:
- Les Pauls
- Any guitar which is supposed to look like a Strat but says
anything other than "Fender" on the headstock
- Fretless or five-string basses
- Double kick drums
- Amplifiers by Mesa Boogie, Crate, Peavey or any other number
of also-rans
On the other hand, good signs are:
- The band's logo on the bass drum
- Fender blackface amps -- or hell, these days, just about any
Fender amp.
- Ampeg amps.
- Backdrops
- Tiki torches or skulls mounted on posts
- The band's name as "Thee" somethings (plural is always
better)
- Chicks
Ideal sleep schedule: hit the sack at 4 am, get up at noon.
Things that are described as "classy" never are.
If a genie popped out of a lamp and gave me one wish for one
skill, I would choose to hit two under par on every hole I golfed, no
matter what. I'd then have guaranteed income as a golf pro or hustler for
the rest of my life, as golf pros have the greatest longevity of any
sportsmen, and be able to hang around tropical resorts with hot
rich babes wearing very little clothing every day. Not too shabby.
I can think of a lot of people for whom a really good playground-
style wedgie would do some good.
Spectraflex cords last the longest, and provide the highest output
in my experience -- never had one short out.
Bypass the tone pots on your Stratocaster. No one ever uses
them anyway, and all they do is add resistance to your signal. You'll
get a significant increase in volume by doing it.
I'm glad males don't have a "monthly visitor." I'd sure hate for it
to appear early and have to improvise with a tube sock and
masking tape (or worse).
The 1966 Pontiac GTO has the coolest-looking grill of any car
Detroit has ever produced. There are several close contenders,
however.
Just what DID happen to style? Yesterday I was looking at a
restored 1960 T-Bird, and compared the difference in its dashboard to
that of some Chevy Lumina or something parked next to it. Designers
used to understand that form and function are supposed to be balanced
-- now they've forgotten all about form, which is why modern cars are so
dang boring.
Once I can play the song "Voodoo Juice" by The Ghouls perfectly,
I will be satisfied with my guitar playing.
Humbuckers suck.
Adam Sandler, Hootie & the Blowfish, the show "Friends," the
Taco Bell chihuahua, Details magazine and Jerry Springer are all
extremely successful in the United States, and are considered "hip" by a
great many people. Now, turn on the news and try to tell me this
country doesn't have the government it deserves.
I have a pretty high threshold for amazement, but Fox
programming amazes even me. Next week they're having "World's Most
Hilarious Deformities" or something like that, with a guy with two faces and
people with goiters the size of bowling bowls, among other
oddities.
Of course, I didn't miss the Robbie Knievel Building-To-Building
Death Jump last week, though. I also enjoy "When Stunts Go
Bad" -- I just sit there chuckling and thinking, "Man, you brought
that one on yourself, fella."
Most useful chord: A minor.
Some people find terms like "whisker bisquit," "poon tang,"
and "quid pro quo" offensive, but I have to laugh like a hyena every time I
hear them.
I've never shot anyone's dog or fed one a steak laced with
poison,
but I've sure thought about it.
I think having your Cheerios pissed in would make just about
anyone frown.
Link Wray has the coolest name in rock & roll history.
Back to your regularly scheduled programming...
Rip
---
Tune in tomorrow...;-)
—
Fender Bass, Small Firearms
Last edited: May 13, 2008 00:11:51