Please forgive me if this has been covered in another thread. I searched for a review of this guitar here but couldn't find one so I thought I would share some of my thoughts. Since Fender has discontinued the American Standard, the American Professional is the new "standard" in the American Fender line.
I just picked up a brand new 2017 American Professional Stratocaster in Sonic Grey. The only other Stratocaster that I own is a 2012 American Standard with the Fat 50s pickups so this review will be a comparison of these two models.
I decided to go with a Rosewood fingerboard because I had read a review that the V-Mod pickups are really hot. The Professional comes with three Tim Shaw-designed V-Mod single-coil pickups. Each pickup is "voiced" in accordance with it's position on the body. So far, I am really digging these pickups. They do seem hotter than the Fat 50s. It seems like I have a lot more versatility in tone with these pickups. At first I wasn't too sure about these pickups because with the Fat 50s a lot of the time I would just max out the tone knob at 10 and just go. The V-Mod pickups can be almost too harsh and "ice-picky" when maxed out and playing hard. But pulling the tone knob back a quarter turn takes that out and they start to sound more like Fat 50s. Maxed out, they sound great with gentle picking and strumming. But if you are tremelo picking, they get really in your face. (note: when I say ice-picky, I am referring to how people sometimes describe Jazzmaster tone but there may be a better way of describing it.)
All 5 pickup positions sound wonderful on this guitar. Some Strats can sound almost muddy sounding (which some folks might like) when in the neck position. These V-Mod pickups, with their voicing tuned in to their respective position on the guitar, really make each position sound different but really nice. Between the voicing of each pickup and the tone control, I think this may be an even more versatile guitar than the American Standard.
The Professional also has a "Deep C" neck profile. It's contoured to be thinner near the head stock and a more traditional C shape near the body. The difference as you move up and down the neck is very difficult to feel. It's very subtle. It is a nice feeling neck, though. I'm mentioning the neck profile mostly because a lot of the reviews that are out there already kind of make this out to be a big deal. Honestly, if you didn't know about it, I doubt you would detect it just by picking it up and playing it. It's very subtle so this shouldn't be something that affects your decision to try one out one way or the other.
One upgrade that I definitely like is the pop-in tremolo arm. It now pops into the trem like a Jazzmaster or Jaguar tremolo arm. No more little springs to lose.
They now come with a bone nut and a treble bleed circuit in the volume pot. The case is really nice.
I have it set up with flat wound .11s. The play-ability is on par with the American Standard. I'll need to gig with it a few times before I can give an opinion of how well it performs on stage compared to the American Standard.
Overall, I am very happy with this guitar so far. As of right now, the best way I can describe it is that it feels and sounds a lot like an American Standard but with a little more versatility in tone control.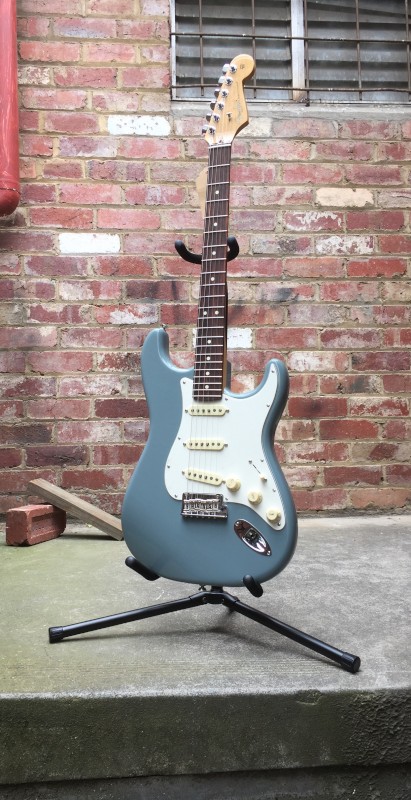 —
Kevin
The Out of Limits
www.facebook.com/theoutoflimitsband
https://theoutoflimits.bandcamp.com/
Last edited: Oct 11, 2017 11:59:11