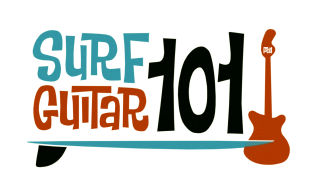 Welcome to the Surfguitar101 Podcast! The podcast started as an experiment just to see what it took to create a podcast. The reaction was very positive so hopefully we will start seeing new episodes on a semi-regular basis. You can download the podcast episodes here and we are also listed in iTunes.
Please discuss the podcasts in our Podcast forum. We'd love to hear your suggestions, and let us know if you would like to help in any way. We need producers, interviewers, artwork, etc. you name it. Thanks!
In addition to the forum, you can contact us by email at podcast@surfguitar101.com.

Subscribe to the podcast via RSS.
Hey iTunes users! Here is our listing in iTunes. Follow the previous link and then click the subscribe button to let iTunes automatically download episodes for you.
---
July 22, 2010 • Episode 12
SG101 Convention #3 Preview
Join Lady Reverb as she spins music from the bands who will be performing at the 3rd Annual SurfGuitar101.com Surf Music Convention on August 7th, 2010 in Los Alamitos, CA. Also featured are new music from The Bambi Molesters, The Reigning Monarchs, and The Wagon Train.
1. Bahraini Boogie - Surfside IV
2. Twang fu - Surfside IV
3. Sno Balls and Pit Beef - Atomic Mosquitos
4. Ah, the Atmosphere - Atomic Mosquitos
5. Going My Wave - Wadadli Riders
6. Dwell@10 - Wadadli Riders
7. Teke, Teke, Teke - Frankie and the Pool Boys
8. Magyara - Frankie and the Pool Boys
9. Surf Party - Astronauts
10. The Savage - The Shadows
11. Volcano Juice - Insect Surfers
12. Nomad - Insect Surfers
13. Tiger Shark - Insect Surfers
14. Good Morning Svetlana - The Space Rangers
15. Murder On The Sixth Tee - The Space Rangers
16. Transatlantic Orbit - The Space Cossacks
17. Tsunami Surprise - The Space Cossacks
18. As The Dark Wave Swells - The Bambi Molesters
19. The Witch Doctor - The Wagon Train
20. Lambretta - The Reigning Monarchs
21. Spectre - The Reigning Monarchs
Bed Music - Bambi Molesters
Listen:
Episode 12 - SG101 Convention #3 Preview
Update Required
To play the media you will need to either update your browser to a recent version or update your
Flash plugin
.
Or download: