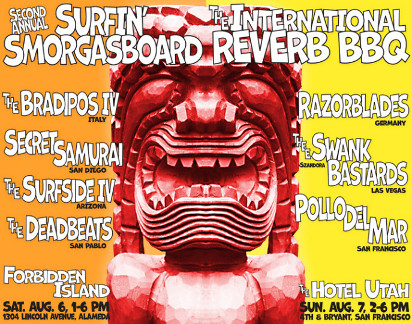 You say love surf music, and you're hungry? Over the August 6/7 weekend, you are very lucky! The Surfin' Smorgasboard at The Forbidden Island and The International Reverb BBQ at the Hotel Utah will satiate your desires, a delicious combination of Surf AND Turf!
---
The Second Surfin' Smorgasboard and Pig Roast at Forbidden Island Tiki Lounge! Facebook Event Page
$10 - Saturday August 6, 1-6 PM, 1304 Lincoln Ave, Alameda CA
Headlining, all the way from Rome, The Bradipos IV. Their sound is Vespas and Morricone, Bardot-a-go-go and Sixties Beach Party. This is their first USA tour.

The Secret Samurai work the antipodal influences of passionate Spanish guitar and frenetic Japanese Eleki into a heavy and aggressive trio sound. This is not Gidget's surf music, but an evolution of Dick Dale's crunchy Middle Eastern melodies. The Secret Samurai released their second CD, "Zanshin" earlier this year.

The Surfside IV come to us from Phoenix Arizona, where there's about a thousand miles of beach before you hit the ocean, for an exclusive Northern California appearance. They are red-Fez wearin' lads with a garage-party dance beat. 

From San Pablo CA come The Deadbeats, the youngest surf band on the scene. Their style is blistering, ear popping, speed surf. Their new CD, "Day of the Deadbeats" will be available at the show.
Don't wait in line, buy early from Brown Paper Tickets!
Authentic Hawaiian pig roast by Oakland's Chop Bar (with vegetarian option). Pig roast not included in entrance fee. 

---

The Intenational Reverb BBQ @ The Hotel Utah Facebook Event Page
$10 - Sunday, August 7, 2–6PM, Fourth and Bryant, San Francisco.
The IRBBQ is proud to present as headliner, all the way from Wiesbaden, Germany The Razorblades. Known for their precise execution, and thunderous assault, their new CD is called "Gimme Some Noise"; this is their first USA tour.

All the way from Las Vegas, the return of one of the most requested bands of the Sunday Surf Party series: Thee Swank Bastards with their incredible hula-hoop artista Szandora. 

And your hosts, local dudes, us guys: Pollo del Mar
+ The Hotel Utah streetside BBQ! Not included in entrance fee.