Submitted by
Jaguar62
on November 26, 2009.

My name is Robert J. Dalley, I am the author of 'Surfin' Guitars' Instrumental Surf Bands of the Sixties. The first edition was in 1988 self-publish. 2nd edition was published by Popular Culture Ink in Hardback. I am currently working on the 3rd edition which will include more bands, updates/corrections and color. I am reaching out to all the bands who appeared in the first two edition to contact me so I can catch up on any additional information, discographies and of course color photos, handbills, fliers, record labels, business cards etc. Some of the new bands I am looking at are the Trademarks, New Dimensions, Surf Teens, Rhythm Kings, Teenbeats, Velvetones, Manuel & the Renegades, Fender IV, Dave & the Customs and more. I have seen some of the threads here about my book and appreciate the comments. I think now is a good time to get it out again as there are a lot of people who would like to have it without paying through the nose to get it. Any help appreciate, suggestions appreciated etc. Please give me a jingle.
Surf's UP!
---
Category: Surf Scene News

11 comments

Submitted by
Brian
on November 17, 2009.

We are a bit late with this story, but I only found out about this today. Thanks to member
Jagshark
for linking us to
this story about a Zorba and The Greeks reunion
that took place in August 2007! Zorba and The Greeks are best known in the surf music world for the late first wave (1966!) classic "
Shockwave
". Shockwave showed up on a few obscure compilations over the years until finally
Sundazed Records
put it on their
Lost Legends of Surf Guitar, Volume 4
release in 2005.
Of particular interest to me is that keyboard player Chris Johnson was cited as being an ophthalmologist and instructor at the University of Iowa, very close to where I live!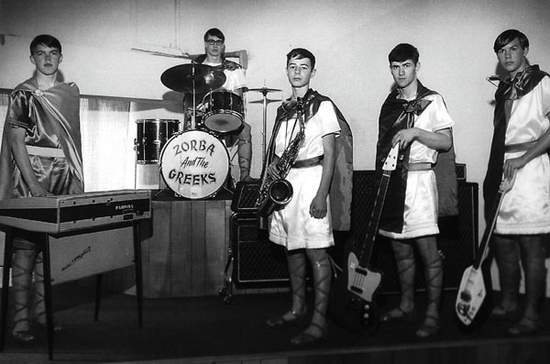 From the linked article: A 1966 photo of Zorba and the Greeks shows, from left, Chris Johnson, Dennis Senff, Jeff Jones, Frank Murphy and Chuck Myin.
---
Category: Bands

5 comments


We've got some great shows coming up folks! We'll be with Igor & Red Elvises on Nov 27th and 28th and with DICK DALE on Dec 19th. Also scheduled are a Chili Cook-off, a radio show, and a live TV appearance!

There is more to this story, continue reading ...
---
Category: Show Announcements

0 comments

Submitted by
Brian
on November 07, 2009.

Check out this public access TV clip from 1991! The Boardwalkers play The (Original) Surfaris Surfari and Davie Allan's The Angry Breed.

From the YouTube page:

One of the best of the 3rd wave instrumental Surf Bands. Without question not only the best but earliest footage of them. Recorded in 1991 for 'It's Happening' a public access TV show hosted and produced by Domenic Priore and Audrey Moorehead.

Surfari was originally recorded by the Original Surfaris. released on Del-Fi in Aug. 63 The Angry Breed originally recorded by Davie Allan and the Arrows for the '68 film of the same name.

Dan Valentie - Guitar, Forrest Bivens - Bass, Scot Forer - drums

---
Category: Featured Videos

6 comments