This is an early 1970s Mosrite V1, which is for all intents and purposes a Ventures Model without the Ventures logo on the headstock. The date codes on the pots say October 1972, so I think it's fair to assume that it was likely made in either late 1972 or sometime in 1973.
It was purchased about four years ago from Chicago Music Exchange, and it is in still the same superb condition. The last three images in the gallery linked below were taken within the past couple of weeks.
My understanding is these early '70s Mosrites were made using surplus hardware from the '60s, and it sure sounds like Nokie Edwards and Don Wilson's Mosrites on the classic Ventures records: full-bodied, dynamic and warm yet clear, with that edge-of-breakup hairiness from the hot single-coil pickups.
What makes this Mosrite era particularly appealing is the fretboard width, which is considerably more spacious than a '60s Ventures model. According to my digital caliper (which may or may not be perfectly accurate), the width at the zero fret is 1.72", making it ideal for those with larger hands who love the Mosrite sound and look but can't deal with their typically narrow necks. Another distinctive thing about Mosrites from this era is the slightly enlarged headstock and redesigned "Mosrite of California by Semie Mosely" logo.
It has the distinctive low frets that Mosrites are known for, but they are not quite as low as the '60s "speed frets." What this means is it is set up with VERY low action, but the frets are still tall enough to enable string bending.
Mosrite did not produce any guitars with black finishes in the '60s, but this guitar's black finish is original, with only a few small nicks here and there, and some slight checking that is only really visible upon close inspection. To the best of my knowledge is is completely original and unmodified, and comes with its original hardshell case.
This guitar is beautifully constructed and rock solid, it needs nothing. Set up for super-fast action and strung with a fresh set of nickel wound Ernie Ball Rock'N'Roll .009 gauge strings, it is ready for the stage immediately.
FULL IMAGE GALLERY: https://postimg.cc/gallery/bwVg4LK
$2300 net to me + shipping & PP fees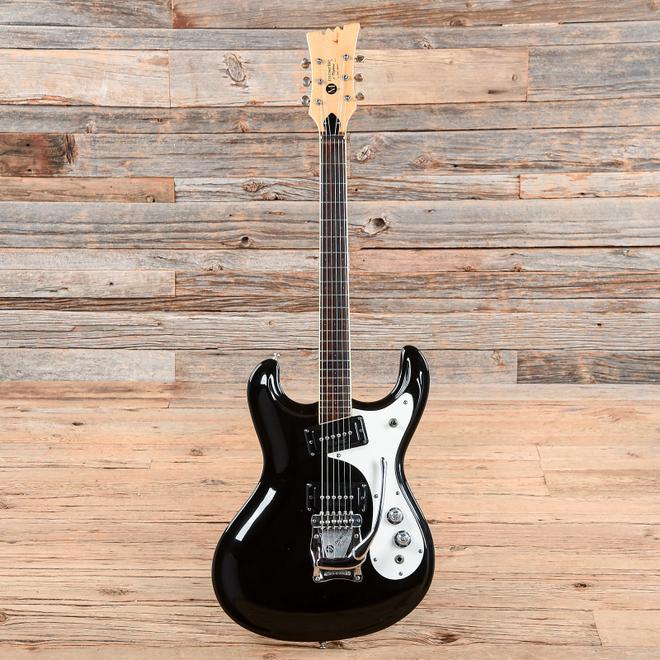 —
Lord Wellfleet & the Oystermen, surf music from the caves of old Cape Cod
Last edited: Sep 29, 2023 20:05:33