Many warm greetings, friends! I've certainly been quiet a while, but in my quiet time I took up planning The Southern Surf StompFest along with fellow Mystery Man Richard, Surf King Bob, and James TikiHut Honeycutt. We had some delays establishing our new location (BLOCKS away from the previous location for those familiar), but it's looking like it'll be well worth the wait! Hope to see some familiar AND new faces! Also looking to get back chatting on this site. It's too good a community!!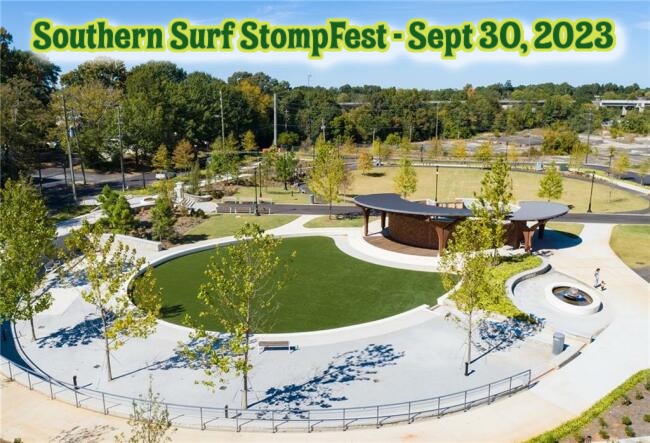 We are thrilled to announce the 2023 Southern Surf StompFest sponsored by The SURF KING Surfwear. Get ready for a full day of surf music starting at noon on Saturday, September 30th. This year will be held at an exciting new venue: The NEW Avondale Estates Town Green!
Feature this killer lineup:
The Intoxicators! (FL)
(https://www.intoxicators.com)
El Capitan & The Reluctant Sadists (GA)
(https://elcapitanandthereluctantsadists.bandcamp.com)
3 Balls Of Fire (TX/CA)
(https://3ballsoffire.com)
Total Death Mechanics (TX)
(https://totaldeathmechanics.bandcamp.com)
Kinky Waikiki (GA)
(https://kinkywaikiki.com)
The AmpFibians (OH)
(https://ampfibians.bandcamp.com)
The Mystery Men? (GA)
(http://www.themysterymenofsurf.com)
The Surge! (GA)
(https://www.facebook.com/thesurgesurf)
Big Ray (GA)
(https://www.bear-family.com/big-ray-the-futuras)
Event date:
Saturday, September 30, 2023
Music starts at NOON
The event location:
Avondale Estates Town Green
64 N Avondale Rd
Avondale Estates, GA 30002
(A couple of blocks down the street from previous location of Little Tree Art Studios)
This event is ALL AGES with FREE ADMISSION!
—