When I moved to Boise I thought I might be SOL when it came to "music stuff", especially since I was coming from Nashville. After a while, though, I discovered some really talented people doing great work right here in my back yard; specifically, Chris of Idaho Flyer Musical Instruments. After having some work done on my Gomez Surfer, we started scheming over a couple of new mods to his Stanford Reverb, a suped-up take on the Princeton. I was after something small for recording and for gigs where the Surfer just isn't viable (I'm looking at you 2nd floor venues with no elevator or load-in parking). This led to the Surfy Stanford.
Aside from the 15" JBL and its hot rodded 23 watts, it has a "Surfy Bear" built into the input 2 side BEFORE the preamp! I've now had a few hours of playing time through it and this little guy shines. Going through input 2, this thing really surfs without the need for a tank, which is handy for home, back up, and grab and go type situations. As expected it will need to be mic'd in a full band setting, though at our last rehearsal it did quite well on its own with some of the quieter songs.
Ok... finally to the pics. Keep in mind this is still technically a prototype and is still due to get a couple of tweaks to the cosmetics.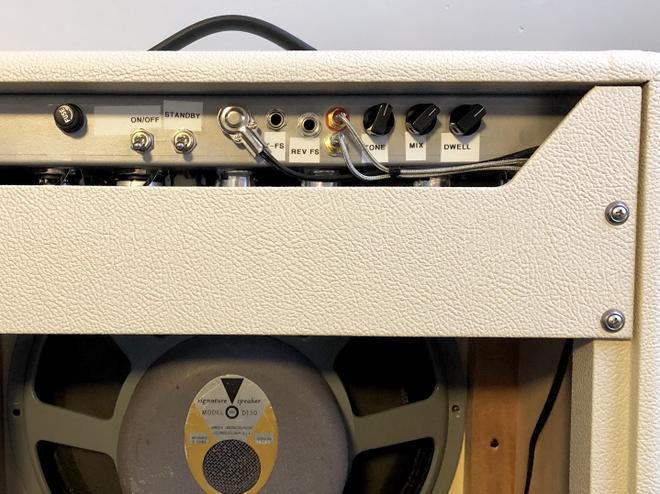 Separate foot-switch inputs for Trem and Reverb (for a Drip Switch, of course). Also, the tone, mix, and dwell controls are hidden on the back.

The Surfy Bear module tucked into the chassis
I still plan to gig with a tank going into input 1, but it's nice to know I have a legit back up that's better than any digital pedal I could carry. I'm not affiliated with Idaho Flyer but I wanted to recognize a great builder who's receptive to crazy ideas and is easy to work with!
Idaho Flyer Musical Instruments
—
-John
The Seatopians 2017-
The Seatopians on bandcamp
The Seatopians on Facebook
giant robot Richard 1999-2002
grR on Bandcamp
grR on Facebook