Hello All,
(Venue change announcement)
Sat. August 8th, 8 am to 8 pm
at the Garden Grove Elks Club
11551 Trask Avenue,(at Newhope)
Garden Grove, Ca. 92843
ph# 714 534 0226
This is about 5 miles East of the old venue,
and about 1 mile south, so I recommend that you still stay at Dons turf motel, but its your choice if you want to get a motel closer.
remember that there is a After party in Huntington beach,
and the HB pier show on sun. also.
Good news and bad news.
Announcing that the Longboards From Spain will be playing now.
and Shockwave from Finland had to Cancel.
Longboards played here in Ca. either before or after the 1st SG101 8 years ago. It will be great to have them back.
Davie Allan and the Arrows (50th Anniversary show)(USA)
The Eliminators(USA/So.Cal.)
Els A Phonics(Spain)
The Longboards(Spain)
The Volcanics(USA/So.Cal.)
The TomorrowMen(USA/Nor.Cal)
Boss Fink(USA/So.Cal.)
MoonBase(USA/Atlanta,Ga.)
Paul Johnson and Friends
Jim Messina and the Jesters tribute set.
Member Jam.
Lots of other stuff,including Raffles,vending room etc.more info coming
Pre shows in Nor Cal the weekend before,to the weekend after in San Diego area. There will be Wed to Fri Pre shows in So Cal.,
An after party at a Venue (tbd).
And there will be a Huntington Beach Pier show the day after SG101 show.
Keep an Eye here, or on the SG101 convention Page for updates.
SG101 News Story with lots of details
Here is the link for the Facebook Page that Kristena put up:
www.facebook.com/events/715931405191067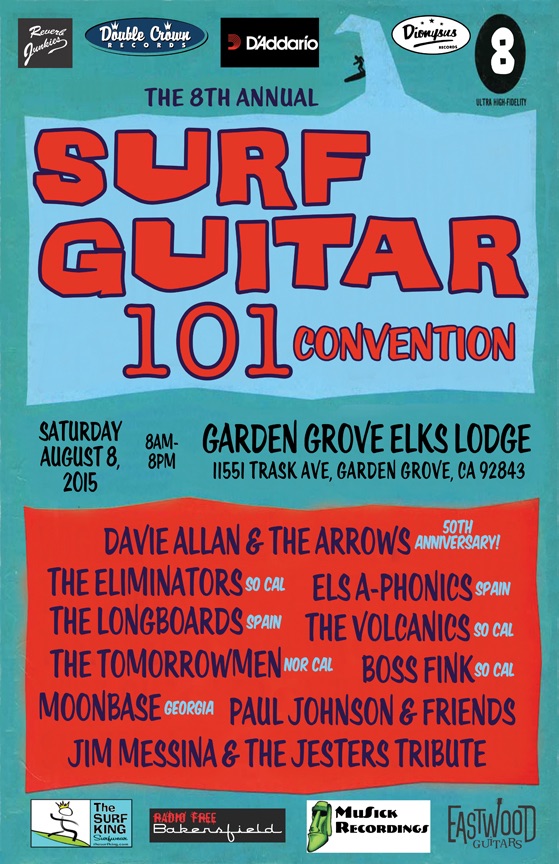 —
Jeff(bigtikidude)
Last edited: Aug 11, 2015 11:17:45