SurfGuitar101 Store
Editor's Choice: Recommended Surf Music Items
The following items are not affiliated with SurfGuitar101.com in any way. However the staff at SurfGuitar101 strongly recommends them to all surf music fans. Check them out and tell them SG101 sent you!
Pounding Surf - "The Original Full-Length Surf Music Documentary"
The Pounding Surf is an amazing DVD with two complete features: A Drummer's Guide to Surf Music, a colorful history of the surf music genre which features great live performances and interviews with key figures, hosted by surf guitar pioneer Paul Johnson from the Belairs. The second part is The Art of Surf Drumming, which is an instructional video for drummers with tips and lessons from four great drummers!
As Paul Johnson says: "Please be assured: this package is NOT just for drummers — it's for everyone who loves good music! What started out as just a simple idea for a "surf drum instruction video" has ended up as a much larger concept..."
Watch the trailer now:
Order now at the Pounding Surf website.
SurfGuitar101 members can receive the special "bro deal": The Pounding Surf DVD for only $20, plus $3 for shipping (international shipping is $15). To take advantage of this offer, bypass the above website send a Paypal payment directly to 4orders@surfdrums.com, or send check or money order to:
E.G.O. Productions
PO Box 12012
Costa Mesa, CA 92627
---
The Illustrated Dicography of Surf Music 1961-1965
John Blair, the lead guitar player for legendary surf revival band Jon & The Nightriders, has put together the definitive guide to the hundreds of singles and albums from surf music's golden era of 1961-165. Now in its fourth edition, this book features more information, an expanded index, and color photos. Foreword by Dick Dale, the King of the Surf Guitar himself!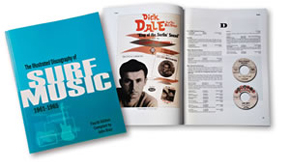 Order now at John Blair's website.
---
Reverb Junkies
Reverb Junkies is a high-energy feature film documenting the current surf music scene in southern California.
Reverb Junkies takes you inside this little known sub-genre of Rock and Roll. This documentary introduces you to some of the people playing the fastest, hottest instrumental music around and to the rabid fans of all ages who are driven to keep the music alive.
Editor's note: Some of the people featured in this film are also members of SurfGuitar101.com!
View the trailer here:
Order from the Reverb Junkies website. T-shirts are now available as well!
---